IIIM was set up by the Government of West Bengal in the year 2000 under the West Bengal Societies Registration Act as a not for profit entity. Since then IIIM has been working with the mission to provide skill development services and knowledge based education to enhance employability of the trainees and foster a knowledge economy. In fact IIIM is working as a catalyst for employment generation with a focus on reducing the digital divide by empowering the socially and economically backward sections.
IIIM works in close collaboration with Ministry of Defence, Govt. of India; Ministry of Electronics and Information Technology, Govt. of India; National Institute of Electronics and Information Technology (NIELIT) under MeitY, Govt.of India; IIT Bombay under National Mission for Education with ICT under the auspices of Ministry of Human Resource Development of Government of India; National Institute of Smart Government (NISG); CDAC under Ministry of Communication and Information Technology Govt. of India; University of Calcutta; West Bengal State University;West Bengal National University of Juridical Science (WBNUJS; Kolkata Police, WB Minorities Development and Finance Corporation and others. The performance of IIIM is highly acclaimed in State as well as in Pan India Level.
Till date, IIIM has trained more than 8 lakh people across the state and in Pan India Level. We are pioneer in computer and ICT based training in West Bengal.
The society is run by eminent personalities from various areas like Education, Public Administration, Health and Corporate Sector. Justice Chittatosh Mookerjee, former Chief Justice of Bombay and Calcutta High Court is the Chief Patron of the society. Mr. Amit Kiran Deb, former Chief Secretary, Govt.of West Bengal is the Chairman of the Advisory Board of IIIM. Dr. Ashok Patnaik, former Additional Chief Secretary, Govt. of West Bengal is the Mentor its mentor and along with Prof Ashoke Ranjan Thakur, former Vice Chancellor, West Bengal State University (WBSU)and West Bengal University of Technology(WBUT), Prof, Manimala Das, former Vice Chancellor, Netaji Subhas Open University; Sri Sandhi Mukherjee, former Inspector General of Police, Mr. Snehasis Sur, Senior Journalist Doordarshan and others comprise the Committee of Management of IIIM.
Ongoing projects of IIIM:
University of Calcutta is implementing a project titled "Open Hardware based Communicable Digital Bio sensing Platform" under the aegis of Ministry of Electronics and Information Technology, Govt. of India. IIIM is the designated Training Partner for Training and outreach programmes of the project.
The project envisages a scope to train students in 3 different "State of the Art" short term courses to enhance their skills for better employment opportunities. After completion of the programme with hands-on-training, a student will be in a position to present himself better to the prospective employers.
As the Training and Outreach Partner of University of Calcutta; IIIM To implement the Training Programme,IIIM has done TNA and on based on that developed the Training Curriculum and delivery plan.
IIIM has also gone an extra mile to arrange resources from industry to provide the trainers a flavour of industry and make the training totally hand-on project based.
Duration : From 24th July – to 29th Sept
T1. Training I [50 Hrs.]
Introducing Rasberry Pi + Projects
T2. Training II [50 Hrs.] IOT Basics + Projects
T3. Training III [100 Hrs.]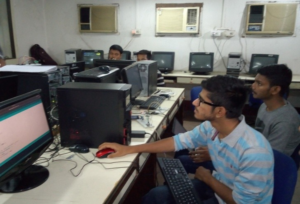 For training T1 and T2, IIIM selected resources from Swecha, a non-profit organization with a decade long expertise in open source sofware and open hardware.This organization developed an Indian  language version of Linux Operating System and has significant expertise in interfacing with IOT platforms. They have also successfully implemented a number of projects in this direction that can be inspiring to the young minds.